Website we built for Kids Electric Cars UK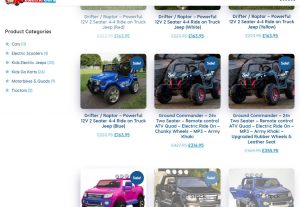 If you own a business and want to establish your brand and company then you would need an online website to get things moving. A professionally designed website can increase sales and your brand quite rapidly. The company kidselectriccarsuk.com contacted us at Pro SEO UK for a newly built website that could be tailored to their business. They were seeking something unique, eye-catching, and exceptionally built to perfect their kid's electric car products based in the UK. In this article, we are going through the type of website we built and why kids electric car UK chose us to build their website.
Kids Electric Cars UK was looking for a professional, user-friendly, affordable, and simple website to get their company and brand off the ground. They have a range of different kids electric cars ride-on toys so we created a category page with all the various kid's cars on separate pages, also a blog, about, and contact us page was created. They also wanted a very colourful and kids and parents related website. It is important to emphasize simple. A simple website will rank a lot easier and will have a lot fewer problems in the long term.
Why choose Pro SEO UK for web design
All websites we build is cost-effective and affordable saving you a lot of money in the long term. We are committed to offering every customer a cheap quote for web design and we are flexible to all size business projects and budgets.
High quality and bespoke websites 
Our websites are of high quality and bespoke designed specifically for every customer's requirement. Our websites are designed to stand out from the rest and make the appearance of the website very professional looking.
Our websites are built to be user-friendly. So, whether you are using on a mobile phone, tablet, laptop, or PC we can deliver the ultimate user experience.

Our design focuses on the speed of loading of all website pages. All pages will load in a flash.
Our team of web designers will make the whole website process pleasant and as easy as possible. Our team are very friendly and reliable and love what we do.
We are honest and hardworking 
We are a hardworking and honest team. We treat all of our customers the same fairly and respectfully. As a team, we offer every customer support and advice while we are building the site to reassure you that everything is the way you want it to be for you and your business.
Exceptional customer service and support 
If you have any questions or need further information in regards to your newly built website or would like to make some changes, then we are always there to offer our support and guidance through the whole web design process. We guarantee fast turnaround times on all updates to your website.